The Chicago Department of Planning and Development has revealed the finalist for their Woodlawn RFQ. Located predominantly at 935 E 63rd Street between S Ingleside Avenue on the west and S Greenwood Avenue on the east, the Request For Qualifications (RFQ) is made up of two currently vacant lots across the street from each other.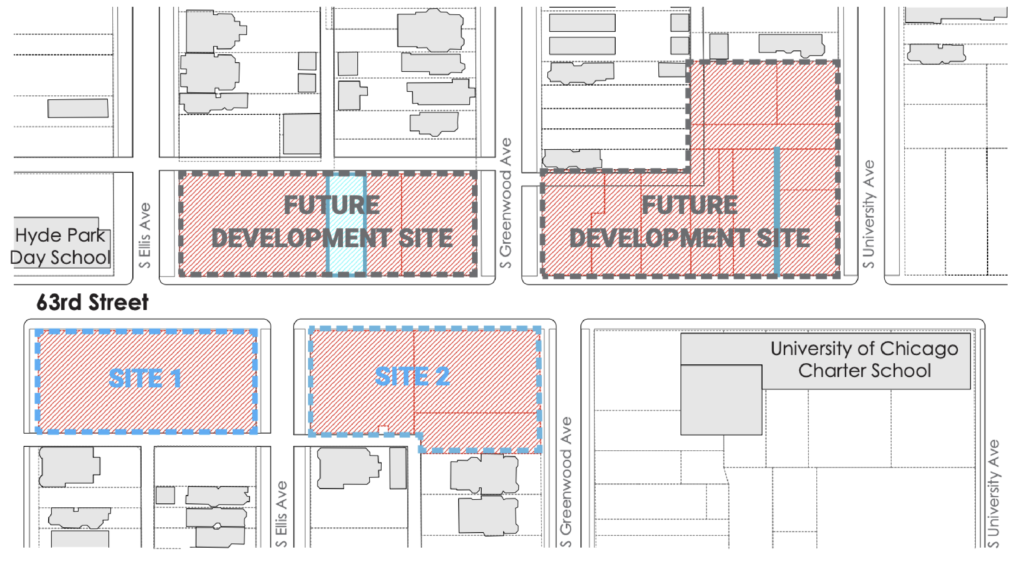 The Woodlawn RFQ was based on three major points; continue the revitalization of Woodlawn with new mixed-use buildings; leverage ongoing investments by the Obama Center, U of C, and other institutions; and provide new housing and retail opportunities for Woodlawn residents. The DPD received three different proposals from various development groups, all of which only show plans for the Site 1 south of 63rd Street and will include a large affordable housing component.
Evergreen Imagine
Team: Evergreen Real Estate Group, Imagine Development Group, John Ronan Architects, and Design Workshop
This team brings plenty of experience in similar projects including their winning entry for Invest South/West. Here they are proposing a design made up of four structures that jut out from one another bringing forth 88,800 square feet of mixed-income space. It would rise five stories and contain 62 residential units made up of one-, two-, and three-bedroom layouts. This would be joined by 9,970 square feet of commercial space aimed at a daycare, a public plaza across the front, a private children's play area, and 39 parking spaces for vehicles.
Elevated Ellis
Team: Micheals, DL3 Realty, Canopy Architecture, Teeple Architects, and Sunshine Enterprises
Deploying a design scheme of stacked cubes atop a glass base, the six-story, 92,000-square-foot mixed-income lowrise will rise 70 feet tall and contain 73 residential units made up of live/work units with street fronts, one-, two-, and three-bedroom layouts. Residents and visitors alike would have access to an active base with a 7,300-square-foot commercial space for a brewpub and a small pop-up slot as well. There would also be 33 vehicle parking spaces. Sunshine Enterprises would provide financial services and business advice for residents.
Woodlawn Social
Team: Tandem Ventures, KoningEizenberg, KMW Communities, POAH, and HED Architects
Utilizing a large glass-filled base with public use, the five-story proposal is topped by three masonry-clad masses with angular facades of different heights. Delivering 69,900 square feet of space, the structure will hold 70 residential units split between 60 apartments made up of one-, two, and three-bedroom layouts, and 10 for-sale townhomes. These would be joined by 8,500 square feet of commercial space which the team is working with various restaurant groups to occupy, 9,000 square feet of public space, 10,000 square feet of private open space, and 26 vehicle parking spaces.
All of the projects are proposing utilizing multiple local organizations to provide services to future and area residents as well including entrepreneurship training, all in hopes to increase the time dollars spend within the community. Future tenants will also have bus access to CTA Routes 4, 59, and 63, as well as the CTA Green Line at Cottage Grove station all within a five-minute walk. A public meeting about the three proposals will be held on February 16 where more details will be revealed, at the moment no selection or construction timeline has been made public.
Subscribe to YIMBY's daily e-mail

Follow YIMBYgram for real-time photo updates
Like YIMBY on Facebook
Follow YIMBY's Twitter for the latest in YIMBYnews