The Chicago Plan Commission has approved the mixed-use development at 357 N Green Street in the West Loop. Bound by an elevated N Halsted Street to the east and a lower W Kinzie Street to the north, the proposed building merges the two heights with a cut-through plaza giving users access from both sides. The project is being led by Canadian-based Onni Group who is also behind Halsted Pointe on Goose Island, with architecture-firm SCB creating the design.
The uniquely-shaped lot guided the form of the tower itself as it runs parallel to Halsted which diagonally cuts the site, thus the structure itself creates a small plaza on Green street acting as the main entrance. Here elevated planters will create a public space complemented by two retail locations with nearly 7,4000 square-feet of space. While monumental stairs take you up through the building to the other side, a side road from Kinzie leads to a small surface lot and the entrance to parking garage on the lower level as well
Officially called a Paseo, the stairs lead to the second floor plaza covered by the tower above and is directly connected to tenant amenity spaces inside. Rising a total of 30-stories and 495-feet tall, it'll sit just over the official skyscraper height designation and deliver mostly office space across its upper floors. Floors three to seven will contain a maximum of 329-vehicle and 50-bicycle parking spaces, clad in a glass facade with bronze vertical fins every 30-inches.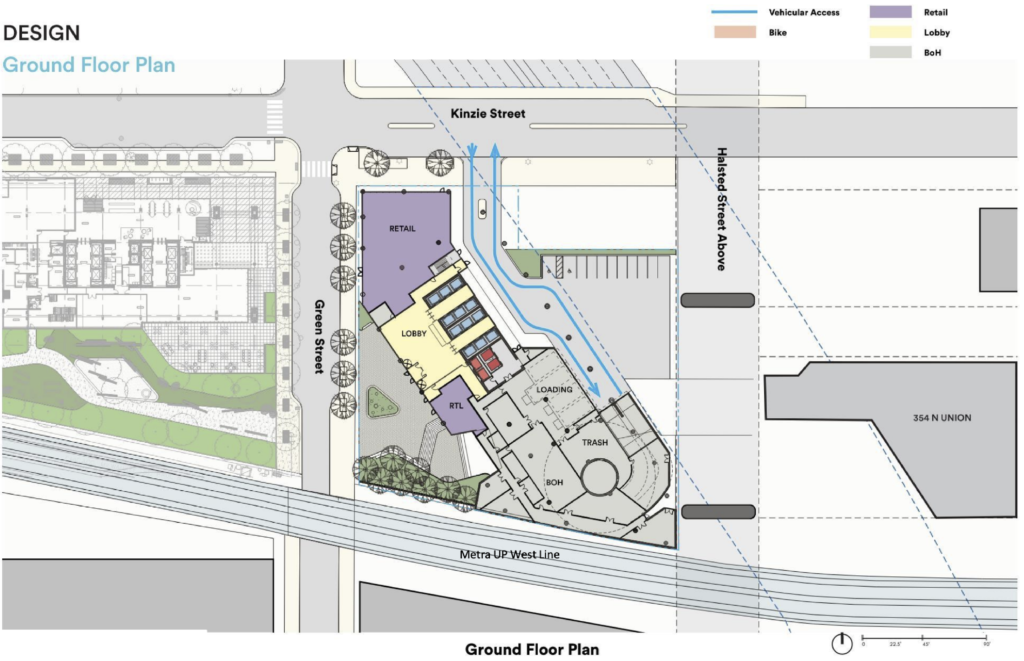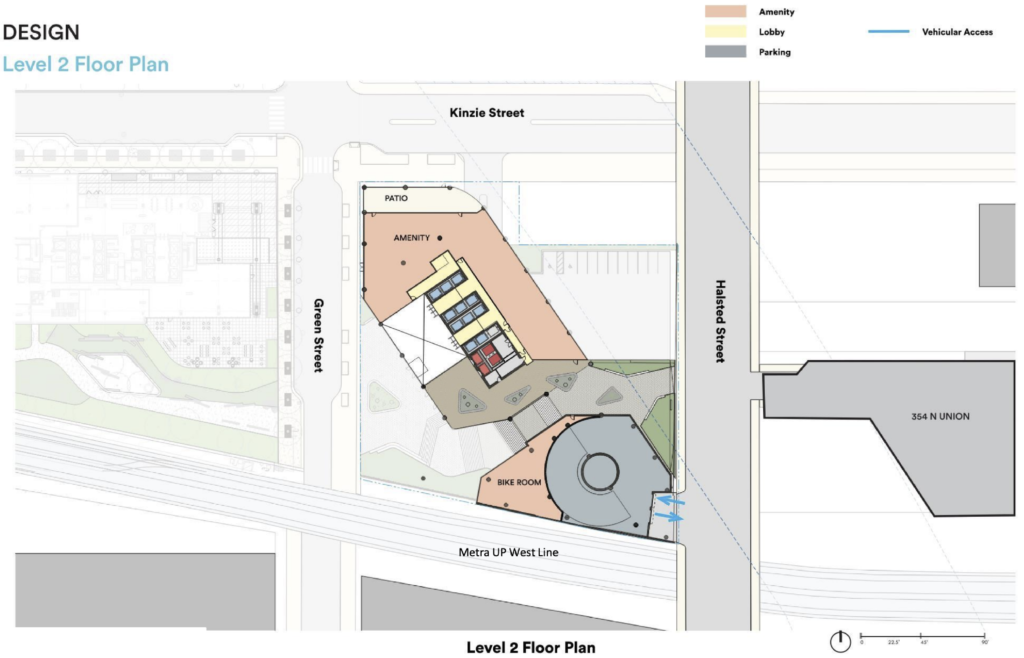 Floors eight to 28 will contain nearly 650,000 square-feet of office space with over 30,000 square-feet of outdoor terrace space, this will be spread across balconies on all floors and setback on floors 8, 15, and 29. The tower itself will be clad in a glass curtain wall with thinner vertical fins and metal spandrels every two-floors. Floor 29 will be occupied by a rooftop restaurant with an outdoor space as well, capped by a crown disguising the mechanical floor above.
With this approval collected the developers will need a few more including from the City Council prior to being able to break ground, and although no formal budget was mentioned we do know the team will be paying $6.3 million to the Neighborhood Opportunity Bonus system. At the moment no formal construction timeline has been established, however the developer has previously mentioned they'd like to aim for an end of 2024 start date if they can land one of the multiple interested parties as an anchor tenant.
Subscribe to YIMBY's daily e-mail

Follow YIMBYgram for real-time photo updates
Like YIMBY on Facebook
Follow YIMBY's Twitter for the latest in YIMBYnews