Zoning has been approved for the residential development at 4553 N Dover Street in Uptown. Located on the southeastern corner with W Wilson Avenue and spread across two structures on an L-shaped lot, the project will demolish a one-story commercial building after receiving some updates earlier this year. Now the development team of Ayman Khalil and Kareem Musawwir can move forward with the Axios Architects-designed building.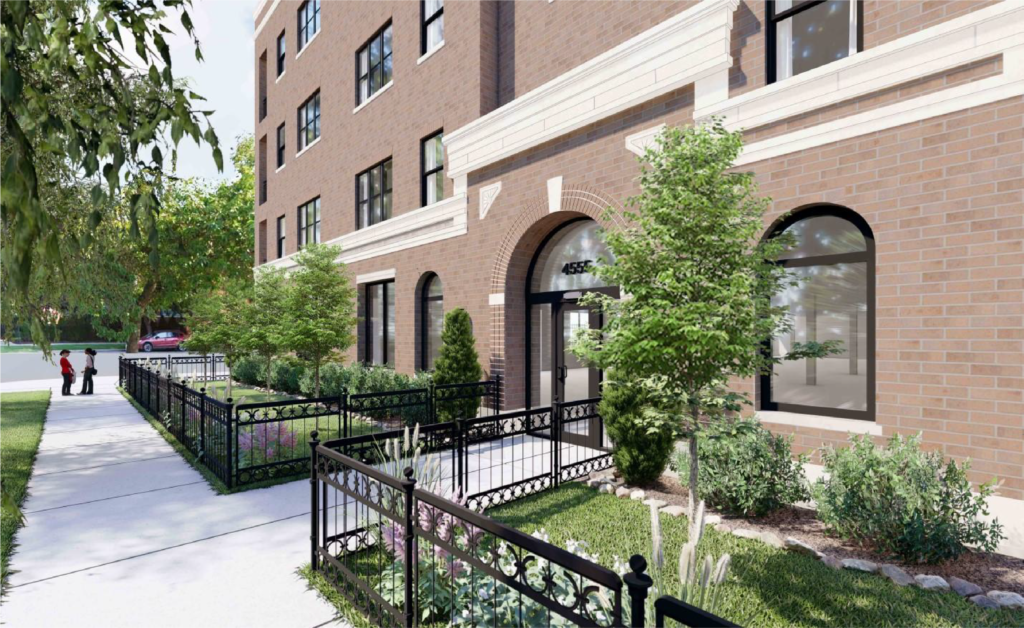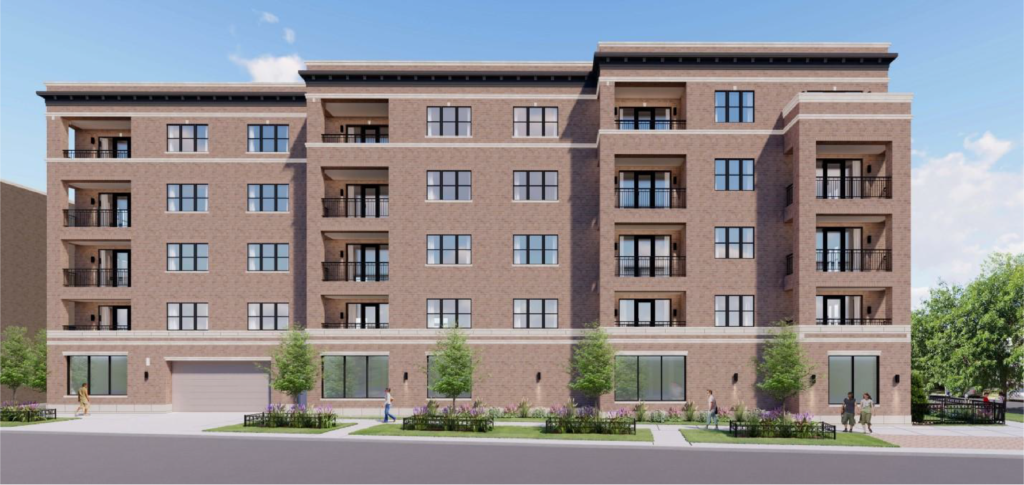 The main structure will rise five stories and 66 feet in height parallel to W Wilson Avenue, much of its form received a redesign on the last round as it now features three setbacks as it moves east. Its ground floor with faux windows will contain a 25-vehicle parking garage with 14 bicycle spaces and a small residential lobby as well. Above this will be 28 residential units made up of 13 one-bedrooms and 15 two-bedroom layouts of which all will have access to a private balcony.
Part of the approvals needed from the Zoning Board of Appeals was to allow for ground-level residential use, this is for the three-flat to be built in the rear at 4551 N Dover Street. Rising 37 feet in height it will contain four residential units of which all will be of three-bedroom layouts. Both structures will be clad in a light brick with decorative cast detailing and a black wrought iron fence around its planters.
Various other setbacks were also approved to allow for the project to rise, including a new curb cut on Wilson Avenue leading to the parking garage and loading. With this the developers can now move forward towards a groundbreaking after having bought the property in 2021. Although no construction timeline has been revealed, it does appear permits have been filed.
Subscribe to YIMBY's daily e-mail

Follow YIMBYgram for real-time photo updates
Like YIMBY on Facebook
Follow YIMBY's Twitter for the latest in YIMBYnews