Initial approvals were granted by the Illinois Gaming Board for the temporary casino at 600 N Wabash Avenue in River North. Located within the Medinah Temple building across the street from the first UNO Pizzeria location, the temporary facility will operate for the next few years while a permanent home is built nearby. Led by Bally's, who was the city's winning casino bid last year, the structure will be renovated from a former furniture store into a state of the art gambling center designed by STL Architects and SOSH Architects.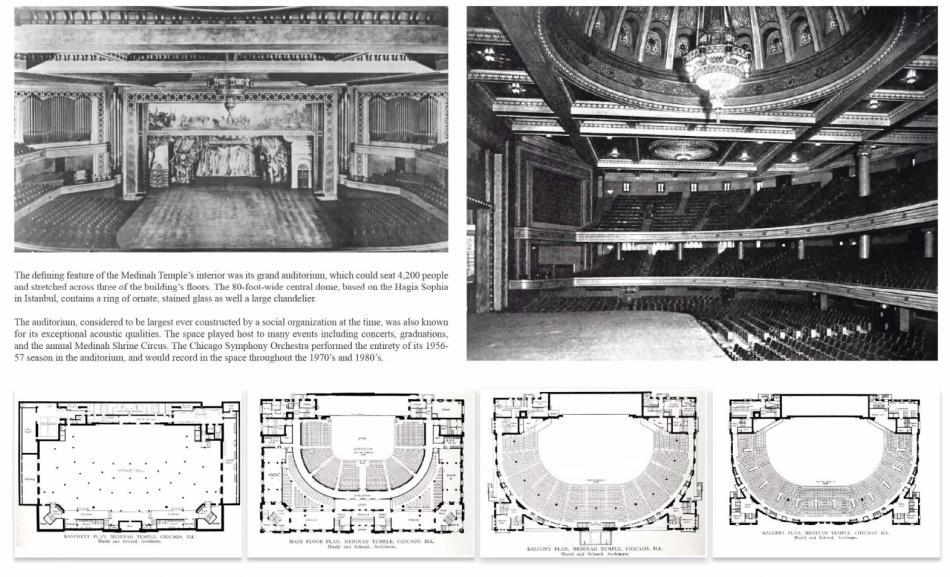 Originally built in 1912, the four-story building once housed a 4,200-person auditorium for Shriners International within its Moorish Revival-style walls. After becoming a Chicago Landmark in 2001 the aforementioned Bloomingdale's home store opened up inside the structure in 2003, subdividing all of the floors but preserving the stage before it closed in 2020. Now the city and Gaming Board have approved its temporary revival as a casino that will be open 24/7 to the public.
STL Architects will be working on the exterior renovations which will be limited to signage replacing mostly what was previously existing, including multiple blade signs around the corner towers and banners on the entrance canopy. Both firms will be working on the interior which will involve the demolition of multiple walls and back of house spaces from the previous store, giving way to a 45,000-square-foot casino spread across three of the floors with 800 slot machines and 50 gaming tables. This will be supported by a restaurant and multiple bars, all of which received renovation permits last December.
The approval came in the form of a suppliers license to two of the project's holding entities according to Block Club. While this doesn't fully allow for the property to open, it does allow it to move forward with its plans in preparation for a groundbreaking later this spring. The current license is set to run for two years with the ability to extend to a third if necessary, but will need to be terminated in order to open the permanent facility. Bally's at the moment aims to open the Medinah Temple location by summer 2023, with the full size casino opening at 700 W Chicago Avenue by 2025.
Subscribe to YIMBY's daily e-mail

Follow YIMBYgram for real-time photo updates
Like YIMBY on Facebook
Follow YIMBY's Twitter for the latest in YIMBYnews