Updated plans have been revealed for the mixed-use development at 1338 W Lake Street in the West Loop. Originally announced via a zoning application in September 2022, the new structure will be located on the northeast corner with N Ada Street bound by the CTA tracks to the south while replacing a multi-story industrial structure currently occupying the lot. Developer Cedar Street Companies is working with local architecture firm SCB on its design located on the western edge of the expanding neighborhood.
The updated design is being shared via a presentation for this month's Committee on Design meeting on January 11th. Rising 28 stories and 319 feet in height, the boxy massing is set back roughly 42 feet from the tracks over Lake Street to maximize the amount of sunlight that could reach the ground level. An inset plaza capped by a sculpture from Lead Pencil Studio will welcome visitors to 7,100 square feet of divisible retail space on the main corner, with a linear landscaped space along Ada Street leading to the residential entrance.
A parking ramp from the public alley will lead up to a four-level parking garage with 255 vehicle spaces and 103 bicycle spaces as well, this will be clad in a dark gray metal panel finish with vertical accents to match the tower above. Capping the podium will be a large two-story amenity level where we can expect lounges, a fitness center and more with an expansive outdoor deck featuring fire pits, a yoga lawn, grills wrapping around the south and east sides. This will also be joined by a rooftop amenity space with an outdoor pool deck facing the city.
The majority of the tower will be made up of 271 residential units made up of studios averaging around 440 square-feet, one-bedrooms ranging from 700 to 870 square-feet, and two-bedrooms ranging from 1,028 to 1,164 square-feet. Of these we can expect the necessary 20-percent, or 54 units to be considered affordable offered to those making at or less than 60-percent of the Area Median Income (AMI), however previous plans showed the developer working with the Department of Housing to boost that number to 30-percent or around 81 apartments.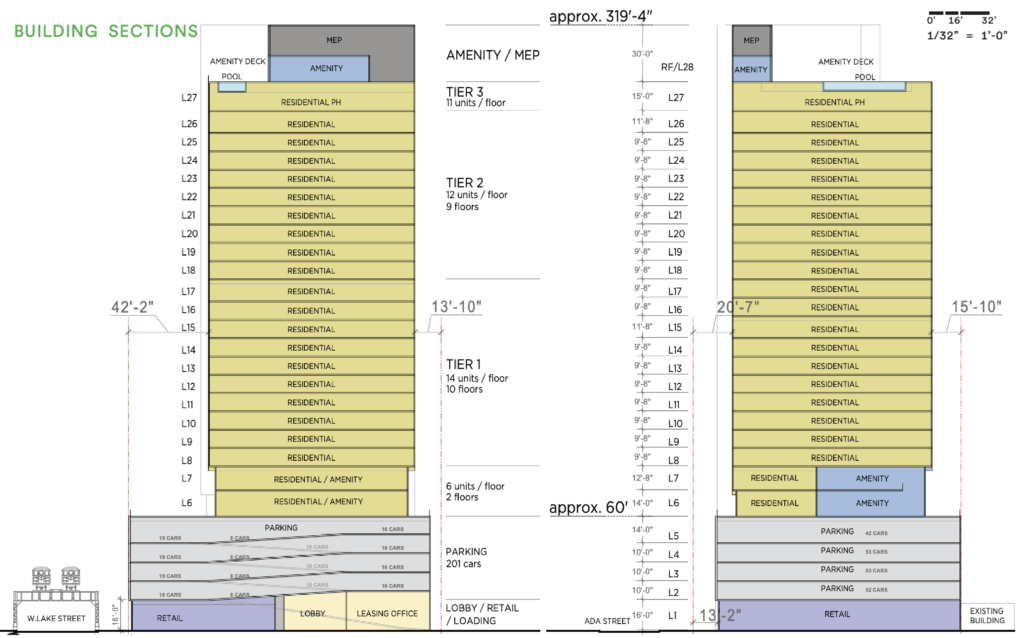 The form itself is made up of four rectangles coming together in each direction around the central square core, the spacing between each one will allow for private inset balconies that break up the overall massing. These will be clad in a blue-toned curtain wall system accented with dark metal vertical fins in a randomized scattered pattern. Based on past proposals, we can expect the Committee to make comments on the design's box podium and how it interacts with the surroundings, as well as potential comments on its glass facade contrasting the area's industrial style.
Although it has almost as many parking spaces as units, local bus service for CTA Routes 9, 20, and 65 as well as CTA Green and Pink Lines are all within a ten-minute walking radius. At the moment no construction timeline has been announced nor a formal budget, however the developer did apply for the necessary rezoning to a Planned Development late last year. Once fully approved and financing is secured, we can expect an 18 to 24 month completion timeline based on similar projects in the past.
Subscribe to YIMBY's daily e-mail

Follow YIMBYgram for real-time photo updates
Like YIMBY on Facebook
Follow YIMBY's Twitter for the latest in YIMBYnews