As construction continues to makes rapid gains, full permits have now been issued for a 19-story mixed-use building at 210 N Aberdeen Street in Fulton Market. LG Development Group has planned to construct a 214-foot-tall structure that will sit on an L-shaped site. The building will include 10,700 square feet of retail space and 363 apartment units. The scope and design have changed slightly prior to construction, having reduced the total units from 414 residences and the height from 239 feet.
This upcoming project will include 73 affordable units made up of a combination of studios, one-, and two-bedroom apartments. Along with the various types of housing, there will also be indoor/outdoor amenity spaces for residents as well as 102 parking spots for vehicles and bikes.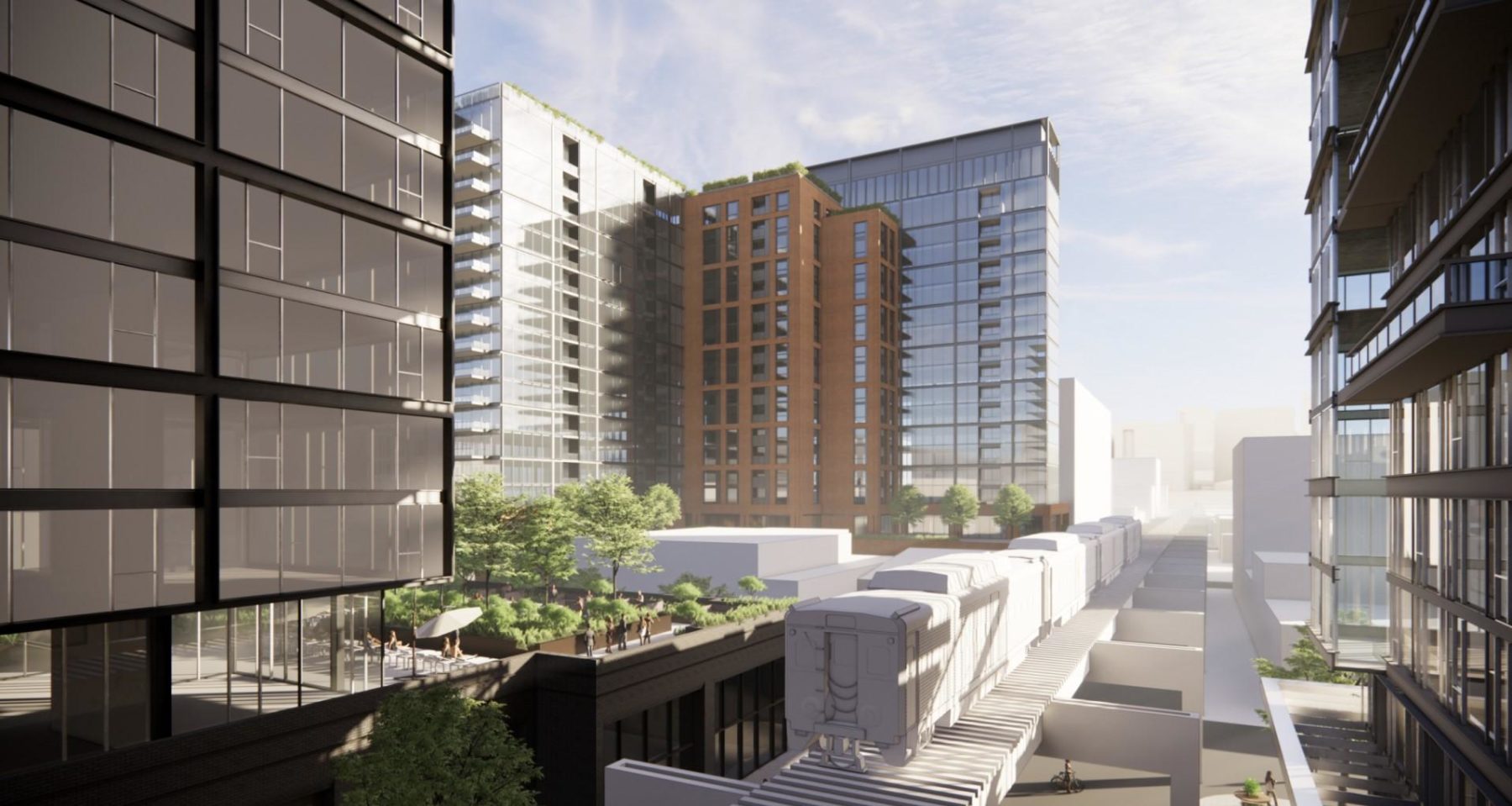 The new building's design, by NORR, has an L-shaped footprint which forms two perpendicular wings. The tower will be set back from the three-story podium, resulting in a less oppressive street wall and space for terraces. The facade will have tan masonry cladding around the podium and center of the tower with a glass and metal curtain wall wrapping around the outer corners of each wing on the second level.
In addition to constructing new buildings, LG Development will also restore and preserve the historic Arthur Harris Building next door. The exterior of the building will stay intact with its stone masonry facade and gabled roof, but the inside will be renovated completely. A glass walkway from this section of the development will lead into the retail area as well where it meets up with continue walking paths throughout project.
Several bus routes serve the area, with Route 65 heading north, Route 8 east, Route 20 south, and Routes 9 and X9 to the west. Eastbound service on the Green and Pink Lines is available at Morgan station via a three-minute walk.
Power Construction is the general contractor on the $140 million build, which is expected to be completed by 2024.
Subscribe to YIMBY's daily e-mail

Follow YIMBYgram for real-time photo updates
Like YIMBY on Facebook
Follow YIMBY's Twitter for the latest in YIMBYnews