Developer Related Midwest has transferred the land title of a portion of The 78 mega-development to the University of Illinois for the construction of the Discovery Partners Institute. The transfer gives the university control of an acre of land near the intersection of S Wells Street and W 15th Street to begin the first phase of the education facility. The project being developed by the university features a bold design by globally-renowned design firm OMA.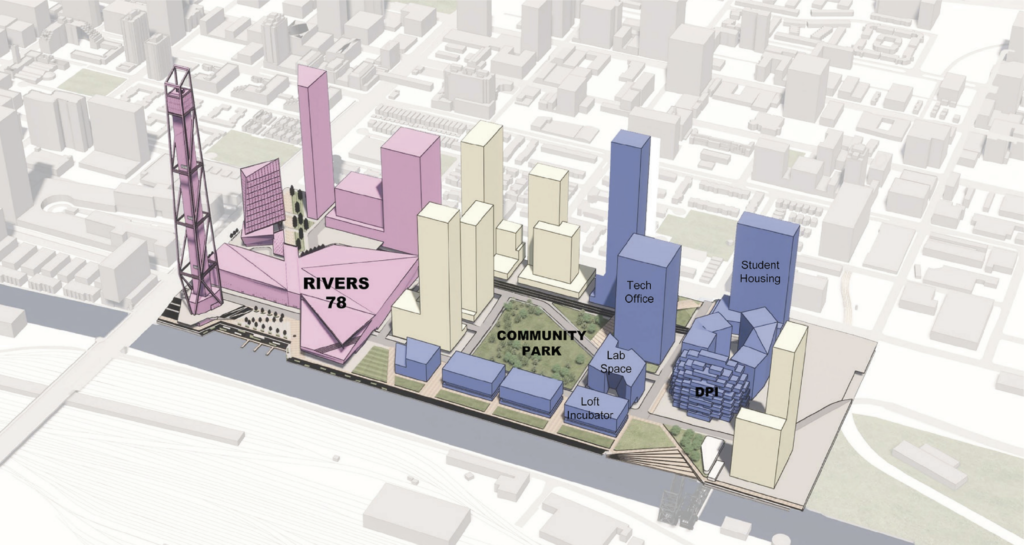 The Discovery Partners Institute (DPI) will focus on three main aspects including developing tech talent in order to attract and retain educated professionals, work on applied R&D by providing the resources and funding to turn ideas into products, and lastly business building by creating programs that help fix the racial and gender imbalance in the Chicago tech community. They will achieve this through partnerships with the Pritzker Foundation, Argonne Labs, Cardiff University, Northwestern, IIT, UIC, University of Chicago, Tel Aviv University, National Taiwan University, and more.
The OMA-designed 11-story structure will rise 180 feet tall and be pierced by a full-height central atrium to create a beehive like environment, this will be surrounded by stacked floors of lab space and office on one side, with alternating staggering office and classroom spaces on the other, topped by a top-floor cafe and terrace. The building will be enclosed in a hexagonal netting like glass and metal facade that will allow for plenty of light to permeate all of the interior spaces, adding to the collaborative environment.
The 261,000-square-foot facility is just part of what DPI will have the opportunity to construct if they chose to exercise the ownership of an additional three acres of land to construct student housing, tech offices, more lab space, and an additional riverfront incubator. This new plan comes after much of The 78 received a redesign due to Related bidding for the city casino proposal, this changed the initial crescent park being ditched for a central community park surrounded by office and residential separating the casino from research district.
A future CTA Red Line station is planned at W 15th Street, estimated to cost roughly $300 million, is also up in the air as plans for the mega-development continue to evolve. The station would be located near the research buildings and serve thousands of expected users. DPI itself will cost more than $250 million, however $250 million have already been secured and a groundbreaking is expected next year, with an anticipated opening date in late 2025 or early 2026 according to Crains.
Subscribe to YIMBY's daily e-mail

Follow YIMBYgram for real-time photo updates
Like YIMBY on Facebook
Follow YIMBY's Twitter for the latest in YIMBYnews