Initial details have been revealed for the redesign of the existing skatepark at 2430 W Logan Boulevard in Logan Square. Located right under the Kennedy Expressway, the existing skate park is one of five operated by the Chicago Park District and the only one that operates year-round due to its covered nature. The extensive remodel and redesign is being led by community group Logan Boulevard Skate Park Committee who tapped LA-based Spohn Ranch Skateparks for the conceptual design.
The current 1.24 acre skate park was first imagined in 2002 with it being added to the Logan Square Open Space Plan by the city in 2004, it since has become a refuge for skaters and BMX bikers but not without issues. Most of the ramps for the park are made out of wood and are quickly falling apart creating a safety hazard for users. Its underpass nature also means that thousands of pigeons utilize it as a bathroom, with their waste caking-on the concrete surface and becoming airborne in the hot summer months.
While the city has been in talks for repairs to the park, including spikes and netting to deter the pigeons, it is seen as a $100,000 band-aid that would put-off work for a few years at best. Because of this, local skaters and advocates have formed the group to spearhead the $1.5 million re-construction that is hoping to gain the support of Senator Cristina H. Pacione-Zayas who grew up nearby.
The new design would strip most of the existing facility and replace it with a new Chicago-themed state of the art skate park designed by- and for-skaters. New features would include concrete steps, rails, bowls, half-pipe, bars, pads, snake-run, and ramps among others made to last for the next generation of skaters. The group is also hoping to have a permanent power washer that will be run by a youth program that will clean and tend to the park weekly, as well as looking into a free-wall for artists to create on openly.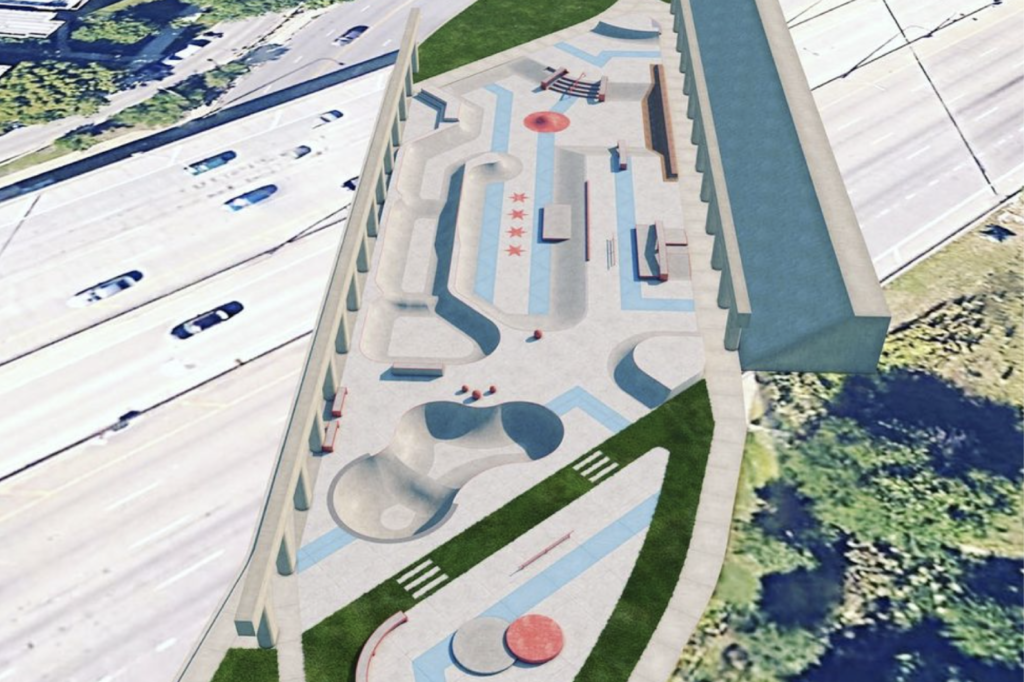 The park hopes to receive most of its funding from the state and the city, who rents the space out from the Illinois Department of Transportation for $1 a year and is working on a long-term plan to rebuild. However the Committee hopes to move forward with their plan if they receive the critical support they are seeking, locals can donate to their GoFundMe here and sign their Change.org petition here.
Subscribe to YIMBY's daily e-mail

Follow YIMBYgram for real-time photo updates
Like YIMBY on Facebook
Follow YIMBY's Twitter for the latest in YIMBYnews