Rising into the 26th place on our year-end countdown is the mixed-use development at 210 N Aberdeen Street in the West Loop. Located not too far from yesterday's entry of Embry, the multi-mass project is near the intersection with W Fulton Street. The team at LG Development Group worked with local architecture firm NORR on its design with Power Construction executing on the plans.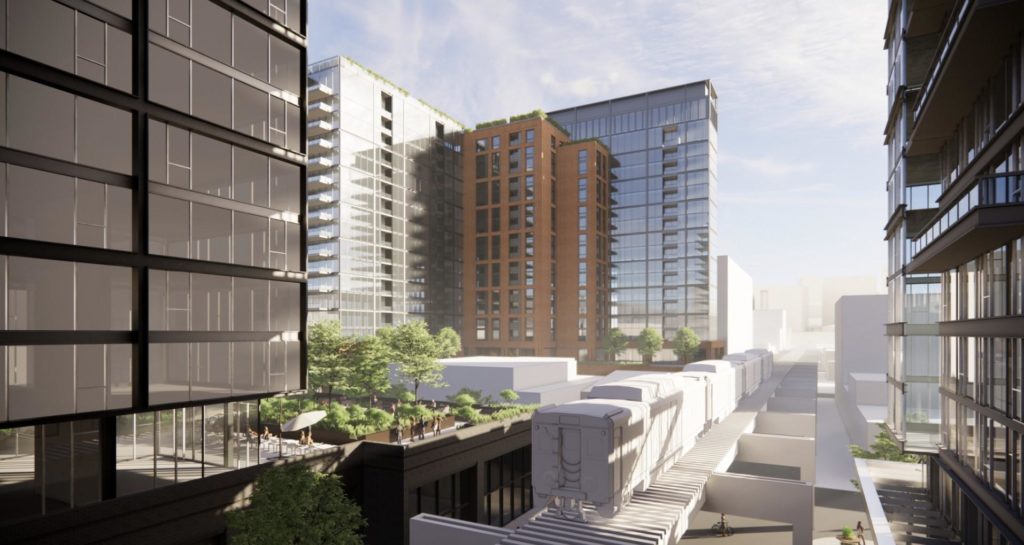 The project started with the renovation of the Arthur Harris Building which was erected in 1904, including repairs to its windows, masonry facade, interior wood structure, and creating a new retail space once completed. Next to it will rise the new 19-story 214-foot-tall tower which takes design inspiration from its surrounding context with a red-brown masonry and black frame curtain wall facade. A change from the originally proposed 239-foot height and a reduction of 50 apartments.
With a unique W-shape form, the materials break up the massing with each section having a slightly different iteration of the facade. Retail and a residential lobby will occupy the majority of the ground floor, along with bike parking and a ramp to the 102-vehicle parking garage. Residents will also have access to various amenity spaces including 10,300 square feet on the second floor with multiple outdoor terraces, and a similar set of spaces on the rooftop.
The majority of the tower will contain 363 residential units made up of roughly 50 percent one-bedrooms, 30 percent studios, and 20 percent two-bedroom layouts. Approximately 73 residences will be considered affordable. Select apartments will also boast inset or cantilever balconies, and all residents will be able to use the indoor/outdoor pool with water slide.
We last checked in on 210 N Aberdeen's progress this past September, when work had just reached above grade on the $140 million project. Now as the core continues to rise, concrete is being poured for the first floors. Construction is scheduled to wrap up by 2024, with move-ins expected in the first half of the year.
Subscribe to YIMBY's daily e-mail

Follow YIMBYgram for real-time photo updates
Like YIMBY on Facebook
Follow YIMBY's Twitter for the latest in YIMBYnews