Photos show the inside of the newly constructed Terminal 5 concourse extension at Chicago's O'Hare International Airport, the keystone of its broader $1.2 billion expansion and renovation. This scheme is the first major overhaul of the terminal since its opening in 1993.
Led by the Chicago Department of Aviation (CDA), the scope of upgrades includes 350,000 square feet of new floor space and the renovation of its existing 750,000 square feet of floor space. The improvements will increase terminal capacity by 25 percent while adding 10 new aircraft gates. The added interior space will include various new retail venues, dining options, passenger amenities, security lanes, and revamped baggage handling, re-done customs and immigration, and added domestic baggage carousels. Given that Delta is occupying part of the concourse, there will also be a new sprawling new Delta Sky Club, one of several located throughout O'Hare.
HOK and Muller2 partnered with the CDA to design the concourse extension and other new areas of the terminal. The extension's wing-shaped structure is clad in a white metal and glass facade. Inside, the design scheme retains the sleek white finish, accompanied by a vaulted ceiling and natural light wells. Juxtaposing with the angular massing of the concourse extension, there has also been the addition of a new cylindrical air traffic control tower with streamlined glass and metal cladding.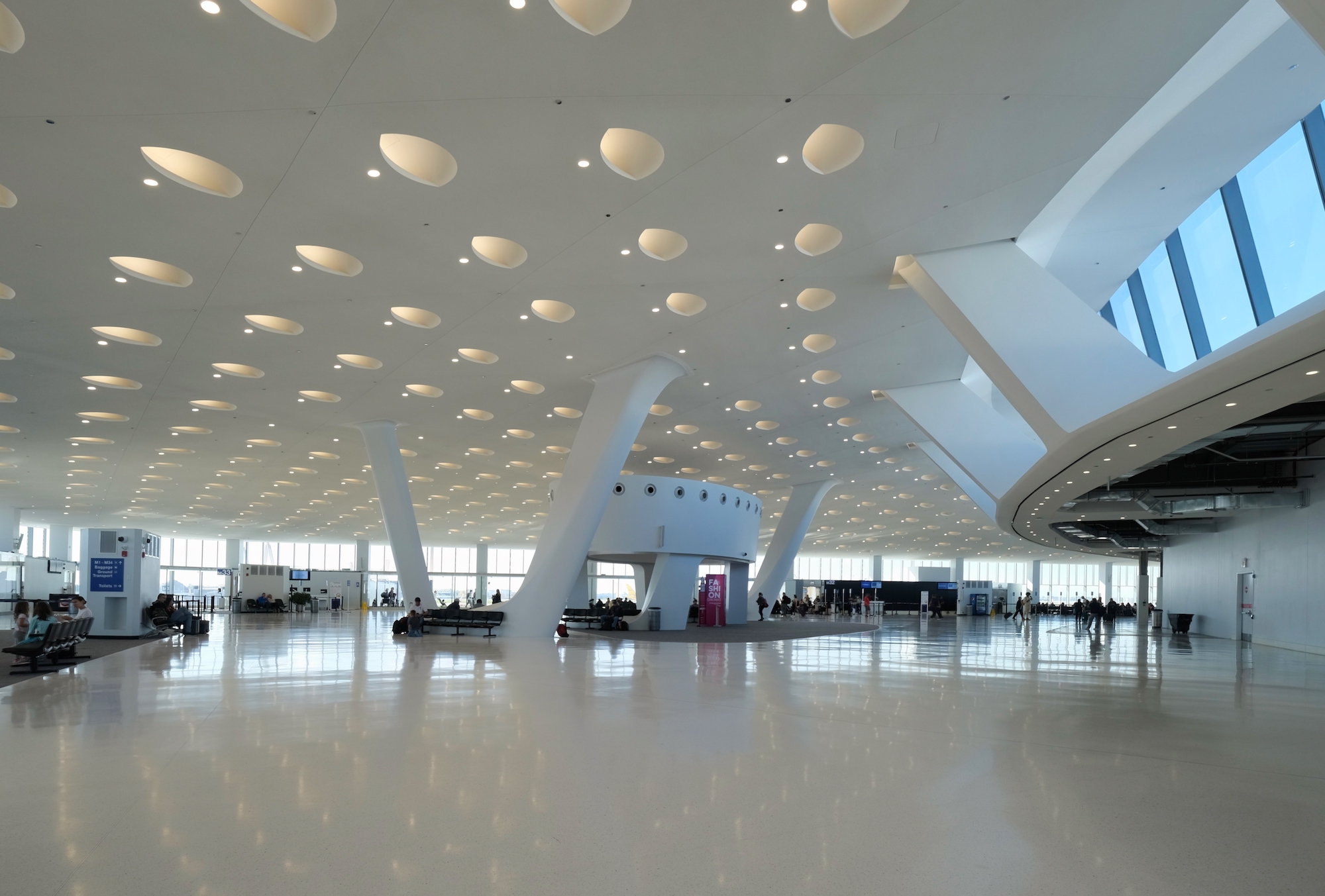 O'Hare Terminal 5 concourse extension. Photo by Jack Crawford
The expansion will be linked to a new garage with 1,750 vehicles. Both of these new structures are expected to complete by 2024. While impressive, Terminal 5's costs are just a fraction of the $8.5 billion initiative known as O'Hare 21, signifying the airport's massive overhaul to meet 21st-century needs.
The largest piece of this masterplan is the new O'Hare Global Terminal, designed by Studio Gang and set to encompass 2.2 million square feet. The undulating concourse's footprint will take on a "Y" shape to symbolize the confluence of the Chicago River. Inside, the terminal will stand in contrast to Terminal 5 with its wood-clad interior, pleated ceiling, and supporting Y columns.
Work has been carried out by Austin Power Partners, a joint venture comprised of Austin Commercial, Power Construction, and Ujamaa Construction. FH Paschen has also been involved as a subcontractor to the construction. With Delta having just moved its operations to a section of the new concourse, the terminal is now partially in-service. Additional interior build-outs are currently underway, expected to last into 2023. The remainder of O'Hare 21 is expected to complete by 2028.
Subscribe to YIMBY's daily e-mail

Follow YIMBYgram for real-time photo updates
Like YIMBY on Facebook
Follow YIMBY's Twitter for the latest in YIMBYnews