Initial foundation work is visible at the triangular parcel along the southeast corner of Wrigley Field, which will give way to a three-story DraftKings sportsbook and various dining options. Co-developed by the Chicago Cubs and Marquee Development, this 22,350-square-foot addition at 1012 W Addison Street will replace the former Captain Morgan Club, which later became the Fantasy DraftKings Sports Zone.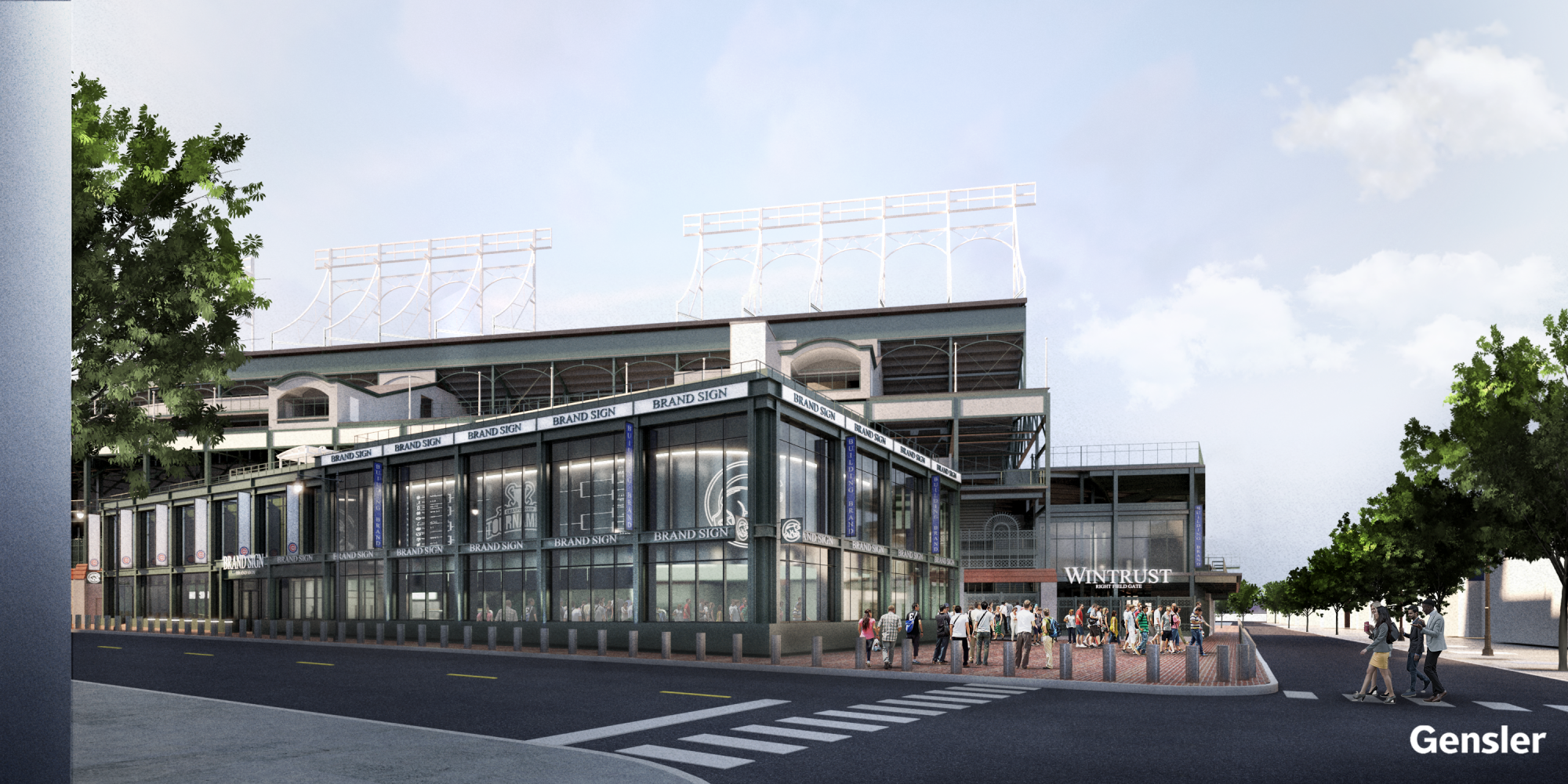 As noted in an Urbanize Chicago article, the project did not require any additional rezoning, given its pre-approval as part of a 2013 master plan. However, the updated design by Gensler did undergo review by the Commission on Chicago Landmarks' Permit Review Committee, which gave the go-ahead in August of last year. Since this approval, the City Council has also lifted the ban on sports betting, thereby permitting new sportsbooks betting operations to be set up in or around Chicago's five professional sports stadiums, including Wrigley Field.
Gensler's design for the project appears as a modern extension of the stadium's aesthetic, with massive floor-height windows that are broken up by a steel beam exterior structure. A portion of the second floor will be open to the first floor, while the third level will include a large rooftop deck for outdoor dining and lounging.
The new venue and Wrigley Field as a whole are closely connected to various transit options. Immediately available bus transit within a minute's walk of the site can be found for Route 152 directly underneath Red Line service at Addison station. Also close by is Route 22, with stops at Clark & Addison via a two-minute walk west.
Pepper Construction is serving as general contractor, with this initial foundation phase costing a reported $8 million. As of now, full building permits have been filed but not yet issued, though a completion date is still expected for the end of this year.
Subscribe to YIMBY's daily e-mail

Follow YIMBYgram for real-time photo updates
Like YIMBY on Facebook
Follow YIMBY's Twitter for the latest in YIMBYnews