Resuming into the fourth spot of the 2021 Chicago YIMBY's year-end countdown is 1000 S Michigan Avenue otherwise known as 1000M in the South Loop. Topping out at a revised 805 feet tall, the tower is designed by prolific architect Helmut Jahn whose work includes the Thompson Center and passed away earlier this year in the suburbs. Developers Time Equities and JK Equities partnered on the skyscraper which recently secured financing to resume construction after stopping work early in the pandemic.
The 73-story structure was originally meant to rise an extra 200 feet with a stacked box design, but was highly argued by neighborhood committees due to its placement on the historic Michigan Avenue streetwall. It was then revised to 831 feet tall with a curved glass exterior cantilevering over the adjoining building south, reducing the total amount of condos as well. With sales not meeting the original predictions, in 2019 the tower introduced smaller European-inspired units dubbed the 'International Collection' with a similar fate.
The tower broke ground and began its caisson and foundation work in late 2019, however construction was halted in early 2020. Behind the scenes, developers were revising plans for the tower. After a quick plan approval this summer, work was able to resume this fall with a variety of design changes and a new $304.5 million construction loan from Goldman Sachs and Deutsche Bank.
Revised plans for the skyscraper include changing the original 506 condominiums to 738 rental apartments, along with the removal of a floor, 26-foot height cut, decreased number of vehicle parking spaces from 440 to 320, and revision to the crown design and structure. The units will be split into four tiers of design as the tower rises ranging in size, and split by various amenity floors offering future residents nearly 75,000 square feet of indoor and outdoor space to use.
The units will be split into 50 percent studios, 27 percent one-bedroom, 19 percent two-bedroom, and 4.5 percent three-bedroom layouts, with penthouses spanning over 3,000 square feet. Of those, 23 will be on-site affordable options with 11 studios, six one-bedrooms, five two-bedrooms, and one three-bedroom for those making up to 60 percent of the Area Median Income.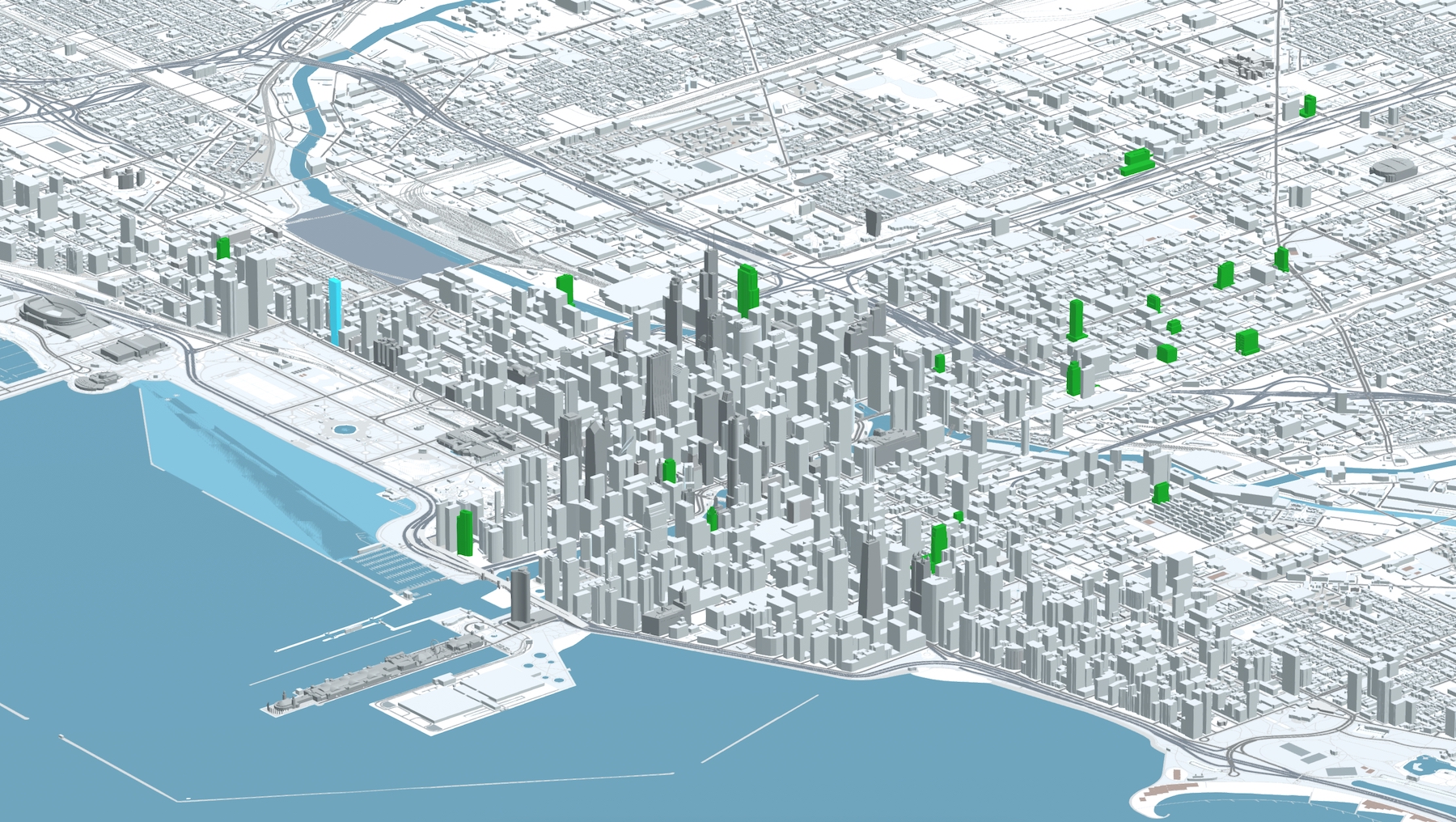 With a prime location across Grant Park and unparalleled views of the city, the development is expected to capitalize on the boom of the rental market currently seen in Chicago. Most recently the project received permits for its superstructure on December 21st, and if all goes according to plan McHugh Construction hopes to complete the tower in 36 months with deliveries expected in 2024.
Subscribe to YIMBY's daily e-mail

Follow YIMBYgram for real-time photo updates
Like YIMBY on Facebook
Follow YIMBY's Twitter for the latest in YIMBYnews