The first phase of the ambitious Wild Mile floating park has been completed behind the REI store at 905 W Eastman Street near Goose Island. The project has been a work in progress since 2003 with hopes to grow a total of 17 acres of floating amenities and nature sites. Started and led by the nonprofit group Urban Rivers, the master plan for the eco-park comes from the local office of Skidmore, Owings & Merrill who began working with the group in 2016.
Envisioned as a nature sanctuary and recreation center for locals to interact with the wildlife of Chicago, its proximity to over 40 educational institutions makes it prime to become a place of learning for years to come. The concept follows the North Branch Canal and turning basin which were created under the watch of Mayor Ogden for the high cargo ship traffic of the days. Lined with steel seawalls, the environment hasn't been the most friendly but in recent years has seen the return of many wildlife species and improving water quality.
The different phases/regions of the wild mile will support various play areas, floating wetlands, dedicated habitats with animal-friendly sculptures, art, seating spaces, gardens, and small pavilions for volunteers and activities. Kayak launches and fish hatcheries will round out the experience. Wild Mile is expected to gain popularity from the success of the riverwalk downtown, but with a mission to immerse people in the often overlooked environments of the city.
The first phase has now been installed and is open to visitors. Work on the small section began in 2016 when the design team and developers floated out a 1,500-square-foot floating garden which helped grow the first of many sections of flora. This initial 400-foot-long section of the Wild Mile was funded by the city with Open Space Impact Fees and the Shedd Aquarium which will work with Urban Rivers to monitor the impact on wildlife and conduct studies on the health of the canal and its ecosystems.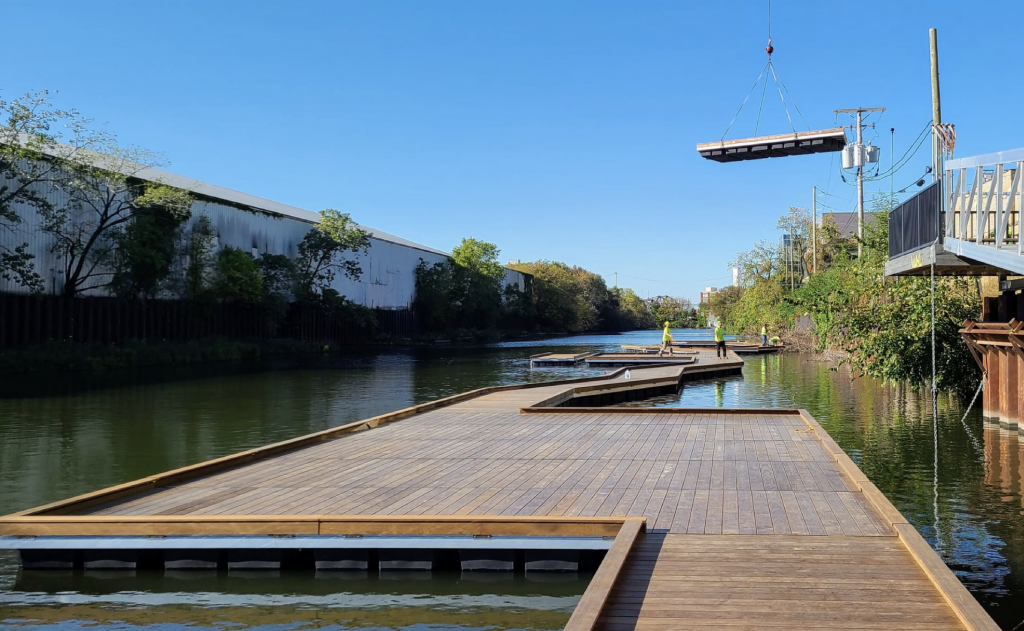 The floating dock itself was built by FWM Docks/EZ-Docks Northeast and was delayed for a few weeks due to supply shortages. The zig-zagging wooden pathway makes its way into the river and terminates with a loop that will connect to a future expansion. Surrounding it are various geometric-shaped floating green islands that hold 12,000 native plants including milkweed, pink hibiscus, and Queen of the Prairie, all of which were selected by the Chicago Botanic Garden to promote pollination and fish populations with their roots.
While no word has been released as to when future extensions of the Wild Mile will be built, this first section marks a monumental step. Kayakers can paddle up to the islands and docks located in the once-industrial area and those who would like to get involved can do so by registering for one of Urban Rivers regularly scheduled river clean-ups.
Subscribe to YIMBY's daily e-mail

Follow YIMBYgram for real-time photo updates
Like YIMBY on Facebook
Follow YIMBY's Twitter for the latest in YIMBYnews