Since YIMBY's last update on the project, construction has completed for a five-story mixed-use building at 2709 W Division Street in Humboldt Park. Planned by Brinshore Development and the Puerto Rican Cultural Center, the structure has yielded a total of 24 affordable units atop a theater and ground-level retail. The new structure is set to replace four low-rise buildings demolished in 2021.
The unit distribution is laid out as an even three-way split between studios, one-bedrooms, and two-bedrooms. The residential component also features a community room and lounge area, a rooftop deck, an on-site building management office, and a 14-car garage.
Urbanworks is responsible for the vibrant design that showcases a series of arches on the first floor, as well as a white exterior wall with wood paneling and additional color details integrated throughout. The modern use of archways is a rare design detail, with only a few recent Chicago examples, such as  CA6 in West Loop, employing this feature.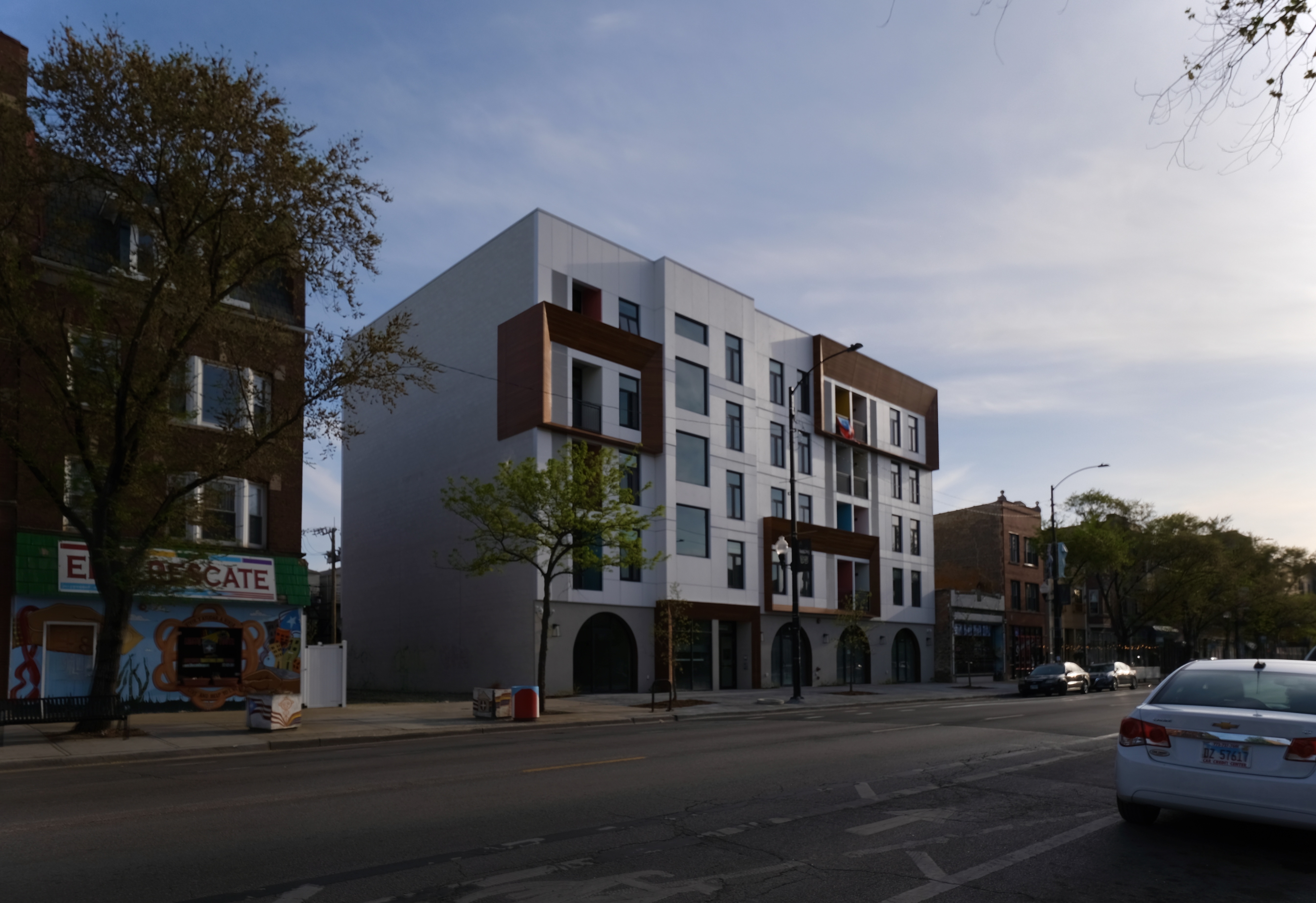 Officially named the Nancy Franco Maldonado Paseo Boricua Arts Building, the building pays homage to the late wife of Alderman Roberto Maldonado, who has long supported arts-oriented development. These residences are particularly geared toward artists who may be looking to live in live/work units and are making between 30 and 60 percent of the area median income.
According to an Urbanize article from 2021, the developers were able to secure funding from multiple sources to subsidize the affordable housing plans, including $6 million in tax-exempt housing bonds, $4.2 million in TIF, a $4.2 million multi-family loan, and $261,000 in low-income tax credits.
Closest bus transit is accessible for Route 70 via the intersection of Division & Washtenaw, just steps from the property. Additional stops for Route 94 are located a three-minute walk west to California & Division. For rail access, no stations for either the Metra or CTA are available within reasonable walking distance.
Drive Construction served as general contractor for the project. Now fully completed, the building is now open to residents and is gearing up for a final retail and theater openings.
Subscribe to YIMBY's daily e-mail

Follow YIMBYgram for real-time photo updates
Like YIMBY on Facebook
Follow YIMBY's Twitter for the latest in YIMBYnews