Developer Shapack Partners has filed a zoning application for a multi-tower development to be located at 509 N Union Avenue in West Town. Alec and Jennifer Litowitz are attached to the project as capital partners. The recently purchased land is an assemblage of sites and will total approximately 3.25 acres. The parcels were purchased over a six-year span beginning in late 2016. Shapack Partners is teaming up with New York-based ODA as well as Eckenhoff Saunders Architects to bring the design to life.
The projects have been organized into two separate zoning applications. The first leg of the development will occupy land at 509 N Union Avenue and 500-520 N Desplaines Street. With an overall FAR of 11.5, this portion of the plan is separated into two subareas, one for 509 N Union Avenue and the second for the plot of land along N Desplaines Street.'
As outlined in Subarea A, the former Salvation Army building will be converted into 141 hotel rooms, with an accompanying restaurant on the ground floor. Subarea B located at 500 N Desplaines Street will host 700 residential units with commercial and retail space included. The building has a maximum potential of 600 feet tall and a planned minimum of 145 parking spaces included in the plan.
Shapack will be subsidizing 20 percent of the planned units in order to offer affordable housing within the reported rental tower. These first sites will require a rezoning from C1-5 to DX-7 before being given Planned Development designation.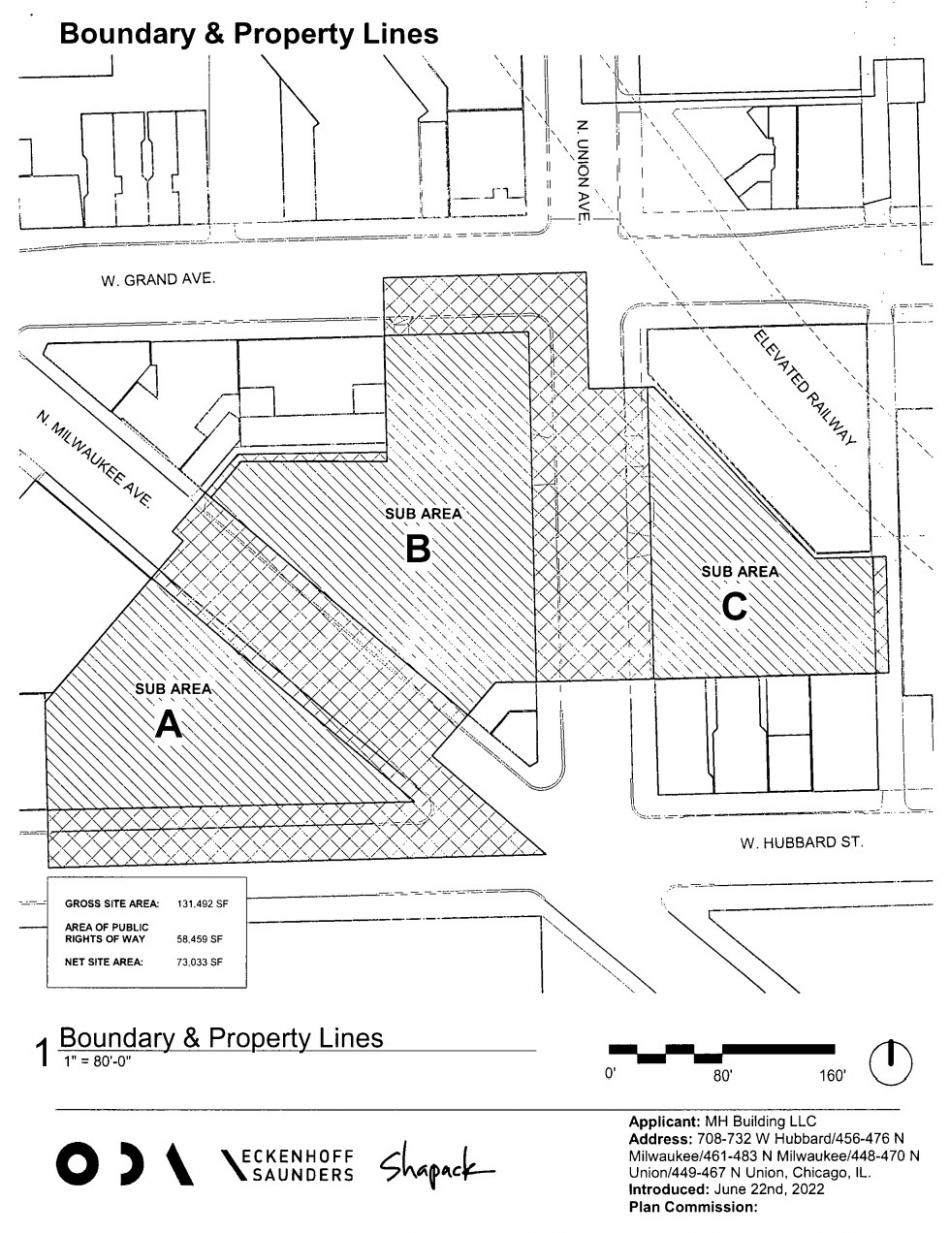 448 N Union Avenue via Shapack Partners
As mentioned, the overall development is split into two zoning applications. The second one will occupy land at 708-732 W Hubbard, 456-476 N Milwaukee, 461-483 N Milwaukee, 448-470 N Union, and 449-467 N Union. The project is anticipated to have an overall FAR of 11.5, this portion of the plan which will be split into three sites between N Union Avenue and N Milwaukee Avenue.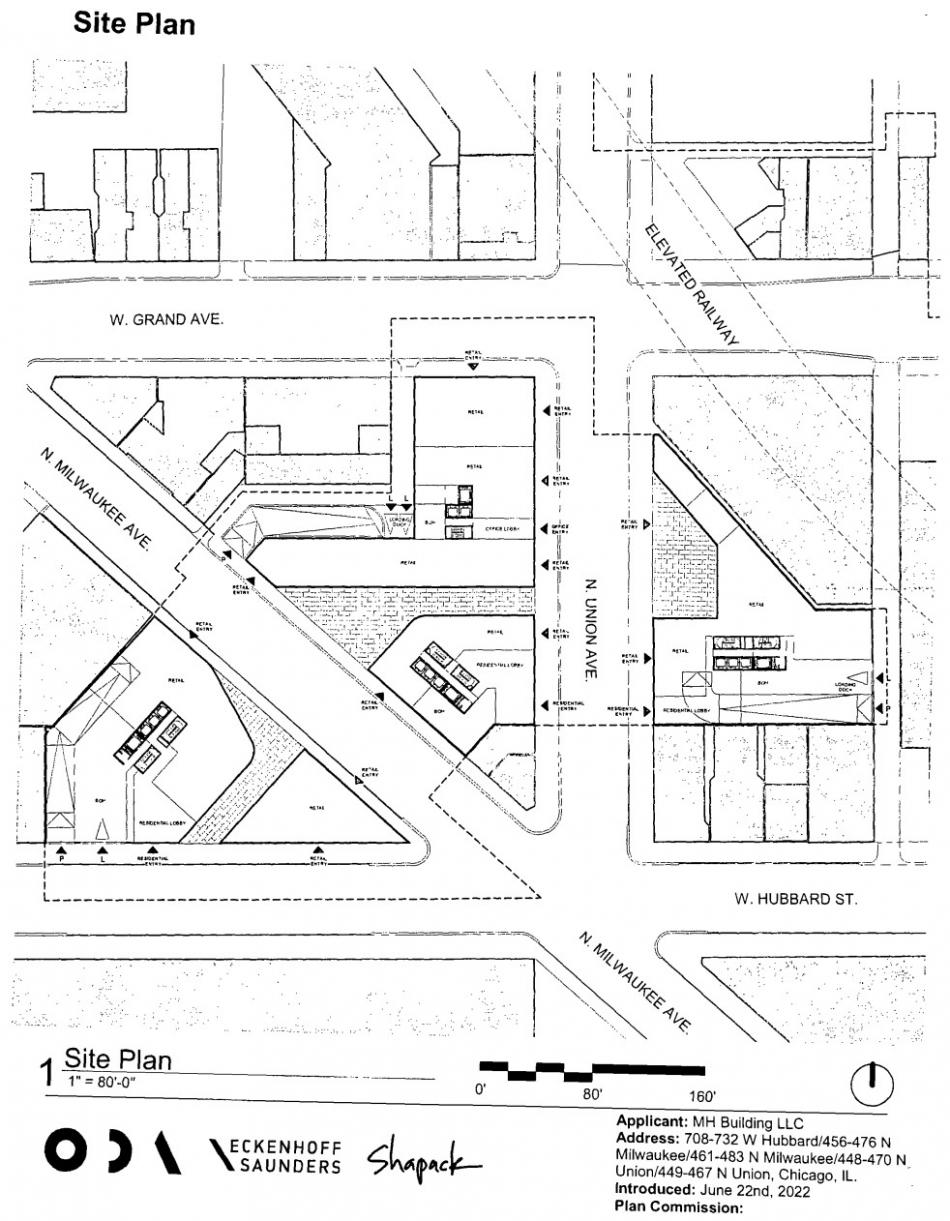 448 N Union Avenue via Shapack Partners
A total of 800 new residential units are expected across the planned builds. At the corner of W Hubbard Street and N Milwaukee Avenue, the new construction will hold a currently unspecified portion of the total residential units, a minimum of 51 parking spaces, and reportedly could stand 300 feet tall. The area spanning between N Milwaukee, N Union, and W Grand Avenues, will feature a new building with an unspecified amount of units, a minimum of 48 parking spaces, and could rise 350 feet tall. The final subarea, which is located along the east side of N Union Avenue, will house the remaining units, as well as a minimum of 76 parking spaces, and could stand 490 feet tall. The ground floor will host a mix of both retail and outdoor space in a similar vein to The Mews, located at 167 N Green Street, and the recently approved project on 170 N Green Street. Both of the aforementioned projects are by Shapack Partners.
For this portion of the project, Shapack Partners will also provide 20 percent affordable units within the three towers identified as rentals in the zoning application. The sites for the plan will need to be rezoned from M2-3 and C1-5 to a unified DX-7 and ultimate Planned Development.
The project will be housed in the 27th Ward, and developers will likely organize community meetings to solicit feedback. With the zoning application filed, this ambitious project begins the approval process. The plan will go before the Committee on Design, the Chicago Plan Commission, and the Committee on Zoning. Should it be approved by each entity it will go before Chicago City Council for final approval.
Subscribe to YIMBY's daily e-mail

Follow YIMBYgram for real-time photo updates
Like YIMBY on Facebook
Follow YIMBY's Twitter for the latest in YIMBYnews