Initial site work can be seen for a planned 18-story residential high rise at 633 S LaSalle Street in Printer's Row. The Collective is behind the project, which will add to the London-based developer's portfolio of co-living projects. At 162,000 square feet, programming will comprise of 117 shared apartment units and 381 total bedrooms.
An increasingly popular type of living arrangement within urban centers, the co-living nature of the apartments offers each resident a private bedroom that is attached to a common living space shared with other residents. Leases will come with an all-inclusive package deal that provides furniture, utilities, linen services, and access to a host of building amenities. This amenity package will come with a co-working space, an indoor/outdoor top-floor amenity deck, a lounge, and fitness center.
The approximately 200-foot structure has been designed by Fitzgerald Associates Architects in partnership with Berkelhamer Architects. The facade integrates a notable mix of different, yet complementing materials. At a distance, the exterior has both a lighter and darker The facade is notably delineated into darker and lighter color schemes, each of which includes a mix of brick, metal I-beam floor divisions, as well as textured concrete panels. Other architectural features consist of small-pane loft-inspired windows and recessed balconies attached to select units.
Despite no off-site parking, the project is closely linked to Downtown Chicago's public transit options. Closest bus access within a five-minute walking radius can be found for Routes 2, 6, 22, 24, 29, 36, 62, and 146. Closest CTA lines include the Blue Line via LaSalle Station, a four-minute walk north, and the Red Line via Harrison Station, a six-minute walk east.
Clark Construction is serving as general contractor. As of now, all permits have been approved for the project's construction, tallying at a reported combined cost of just over $45 million. A full completion date has not been officially revealed.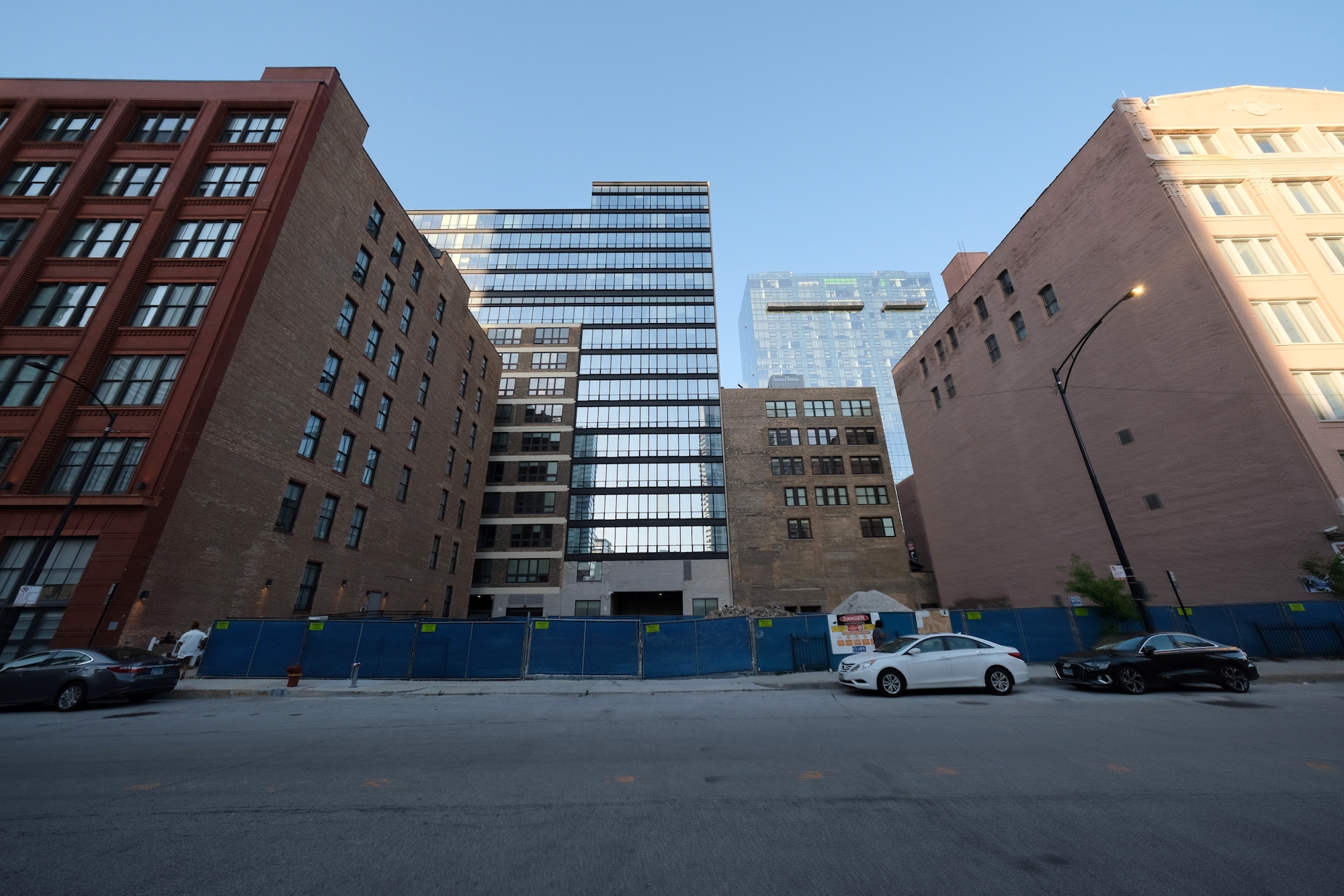 While there will be no on-site parking, there will be a bike room along with several nearby public transit options. Bus transit within a five-minute walk includes stops for Routes 2, 6, 22, 24, 29, 36, 62, and 146. The closest CTA L stations, meanwhile, comprise of the Blue Line at LaSalle station via a four-minute walk north, as well as the Red Line at Harrison station via a six-minute walk east.
Clark Construction will serve as general contractor for the build, with this most recent permit listing the foundation phase at a reported cost of $525,000. Currently, an updated completion date has not been revealed.
Subscribe to YIMBY's daily e-mail

Follow YIMBYgram for real-time photo updates
Like YIMBY on Facebook
Follow YIMBY's Twitter for the latest in YIMBYnews